Frog Classroom Special Stories
Teachers, students and parents are eager for their schools to have a Frog Classroom. Besides raising their own funds and seeking help from the community, there have been a number of corporations that have partnered with the schools to create 21st Century learning spaces. From the Peninsula to Sabah and Sarawak, each Frog Classroom has a special story of its own.
"The Frog Classroom provides special needs students an equal opportunity to use the Frog VLE. The classroom's conducive and friendly environment sparks students' interest and helps them focus for a longer period."
---
Pn. Nik Noraihan, Special Needs Teacher, SMK Bandar Baru Salak Tinggi.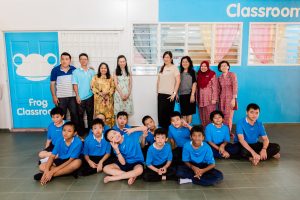 YTL Foundation builds a Frog Classroom for Special Needs Students...
Read More >